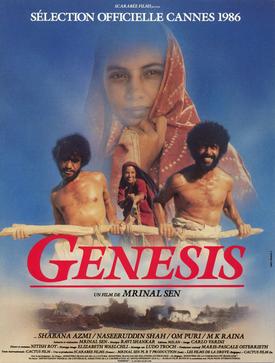 France | India | Belgium | Switzerland | 1986 | 105 Minutes | Hindi | 35 mm | 2940 m | 1:1,85 | Eastmancolor
A film from Mrinal Sen
The poor and meek are miserable, for they shall not inherit the earth.
In search of a new place to live, a farmer and a weaver settle in an abandoned village, on the remnants of a former community. They begin with the reconstruction and are successful thanks to a well. They exchange their products with the goods of a travelling trader.
A woman unexpectedly appears and becomes a part of their lives. Together they cultivate the land and protest against the exploitation they experience at the hands of the trader. But competition and jealously flares up between the farmer and the weaver, erupting as the woman becomes pregnant. She warns them both that they will never overcome external obstacles and enemies if they cannot master their inner demons. In desperation, she moves on in search of a peaceful community.
When the farmer and the weaver finally unite in defence against the greed of the trader it is too late… They perish. The cycle of passing and becoming begins again.
Cast & Crew
Shabana Azmi die Frau
Naseeruddin Shah der Bauer
Om Puri der Weber
K. Raina der Händler
Regie Mrinal Sen Assistenten: Amal Sirkar / Supantha Bhattacharya / Umashankar Pathik
Drehbuch Mrinal Sen & Mohit Chatterjee nach dem Roman von Samaresh Basu
Dialoge Pathik Vats / Surendra P. Singh
Kamera Carlo Varini Assistenten: Manish Sarkar / Sashi Anand / Tapas Pal / Soba Sadagopan
Ton Henri Morelle / Frank Struys Assistenz : Radjan Pandey
Herstellungsleiter Mukul Chaudhuri
Aufnahmeleiter Jitesh Basu-Thakur Assistenten: Biswanath Das / Chakradhar Mahapatra / Gopi Kannadasan
Produktionsassistenz Indien

Joël

Guibert
Produktionssekretariat Sylvie Lenoir / Isabelle Cahen / Marie Anne Thunissen
Musik Ravi Shankar Assistenz: Kumar Bose
Musiker Ravi Shankar / Kumar Bose / Kamalesh Maitra / Benoit Charvet / Jerry Lipkin / François Auboux / Laura Patchen
Schnitt Elizabeth Waelchli Assistenz: Nadine Muse
Mischung Gerard Lamps
Geräusche Jerome Levy Assistenz: Alain Levy
Ausstattung Nitish Roy Assistenz: Ajit Patnaik / Manas Biswas
Elektrik E.P. Joseph / Kedar Singh / Swapan Nath
Make Up Debi Halder / Ramprasad Kahar
Photos Subash Nady
Prodzuzenten Eliane Stutterheim / Marie Pascale Osterrieth / Jean-Jacques Andrien / Palaniappan Ramasamy / Donat Keusch
Eine Produktion von SCARABÉES FILMS Frankreich / Mrinal Sen PL.R.T. Production Indien / Les Films de la Drève Belgien / Cactus Film Schweiz