DIE INDIANER SIND NOCH FERN
THE INDIANS ARE STILL FAR AWAY
Switzerland / France, 1977, 98 Minutes
Written and directed by Patricia Moraz
Cast: Isabelle Huppert, Christine Pascal, Mathieu Carrière, Nicole Garcia, Anton Diffring
17-year-old school girl Jenny Kern lies dead in the snow. Accident? Suicide? The official report reads death from "exhaustion and cold."
The last days in the life of the high-school student: A run of the mill week with a few events and encounters, stories and prophecies. And a few memories, embellished by friends now approaching their thirties.
LES INDIENS SONT ENCORE LOIN plays out in a wintry Switzerland. In a country of moderately rich and poor, where mediocrity abides in relationships to people and things.
Press commentary 1977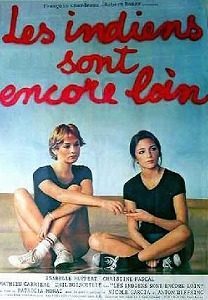 medium:
…a discovery, a breakthrough: Isabelle Huppert. The 22-year-old actress comes from a small village near Paris; after studying as an actress she worked her way up in theatre and film: a remarkably normal career. We saw her twice in Cannes: in Claude Gorettas infinitely sad love story LA DENTÈLLIERE and LES INDIENS SONT ENCORE LOIN, the spellbinding debut from the young Swiss-French director Patricia Moraz.
…under Patricia Moraz' direction, she ultimately lies dead in the snow, possibly a suicide, but in any case with the impossibility to go on living. This isn't just a individual tragedy. It seems as if this figure is sending a signal for a generation that is growing up in repressive circumstances that no longer finds that words suffice and thus take matters into their own hands.
Daily Gazette:
… These aren't films "about" existential fear as much as they stem directly from it, that is to say, they express it, are part of the problem, films on the brink of silence and self-abandonment. The leading lady in Patricia Moraz' film, Jenny, looks for a snow-covered death because she sees no way of fulfilling her ideals, of knowing the absolute.
Frankfurter Allgemeine Zeitung:
…LES INDIENS SONT ENCORE LOIN, a film from Swiss-French Patricia Moraz. She realised how to portray Lausanne as beautifully, cleanly, exactly and precisely as a swiss clock, that the horror that drove Hemingway to his sarcastic narrative of this city is tangible, the very same which likely contributed to Godards' uncompromising rejection of the bourgeoisie.
…It conveys in its silent perfection (Camera: Renato Berta) the melancholy, coldness, anaemia, frustration; the hallmarks of a young and often brilliantly made Swiss film. Its impact continues to be felt because it seems to perfectly encapsulate how it feels to be a part of this European generation.
Digitization and restoration planned for 2020.
Cast & Crew
Isabelle Huppert Jenny Kern
Christine Pascal Lise
Mathieu Carrière Matthias
Chilpéric de Boiscuillé Guillaume
Nicole Garcia Anna
Anton Diffring Deutschlehrerin
Jacques Addou Concierge
Bernard Arczinsky Charles Dé
Connie Grimsdale Großmutter
Marina Bücher Marianne
Emmanuelle Ramu Pascale
Guillaume Rossier Junge
Catherine Cuénod Sportlehrerin
Claudia Togni Kellnerin
René Hertier Junge vom Buffet
Drehbuch & Regie Patricia Moraz
Kamera Renato Berta
Ton Antoine Bonfanti / Luc Yersin
Musik Patrick Moraz
Ausstattung Rolf Knutti / Jacques Magnien
Schnitt Thierry Derocles
Produktion Les Films 2001 mit Filmkollektiv Zürich